News, Tax Savings, Tax Exemption, Estate taxes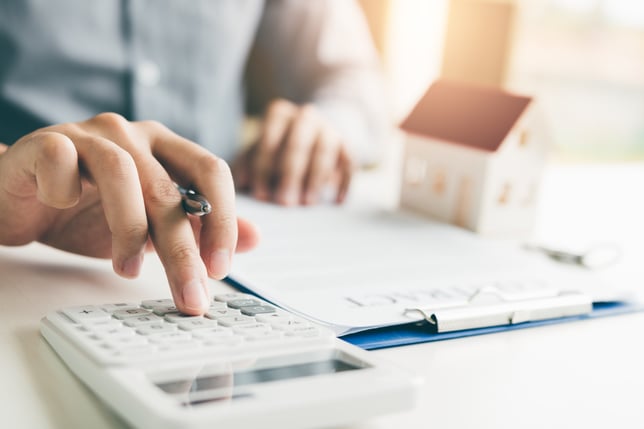 The quality of your retirement can be impacted by state-level taxes, such as income, sales and property taxes. Taxes tend to lead to inflation, meaning the cost of living trends higher in high tax states. Your spending power will thus be greater in states with low state taxes. Retiring in a state with high taxes, such as California where income taxes alone range up to 13%, means paying a large chunk of your retirement income to the state, diminishing your spending power. Consider how you plan to spend during retirement; do you prefer to make your home a vacation destination for others, or do you want to be the one travelling? If the latter, putting down roots in a small home in a state with low taxes may give you the financial freedom you want to see the country or the world.
Still another factor to consider is the taxes payable upon death, commonly called estate taxes or inheritance taxes. An estate tax is based on the value of the decedent's gross estate (all the real and personal property the decedent owned); whereas an inheritance tax is based on the relationship between the decedent and the beneficiary. The chart on the right identifies the states with a state-level death tax. Estate taxes are highest in Washington, which currently has a 20% estate tax on estates over $11.2 million. Other tough tax jurisdictions include Vermont, New York, Massachusetts, Rhode Island, Maryland, Oregon and Hawaii. Retirees who have family in these states may benefit from maintaining a primary residence in a low tax state, with a second home in the higher tax state.
Six states have an inheritance tax: New Jersey, Pennsylvania, Maryland, Kentucky, Nebraska and Iowa. Although bequests to spouses are exempt from inheritance tax, bequests to children, siblings, nieces and nephews, cousins, or close friends may bear a high tax. Crossing the border to a state without an inheritance tax can save your loved ones hundreds of thousands of dollars. For example, a niece who inherits from an aunt who passes away in New Jersey with a $5 million estate will pay approximately $750,000 to the State of New Jersey; however, if the same aunt died a New York resident, there would be no inheritance tax liability.
Another way to take advantage of tax-friendly jurisdictions is by establishing a trust in that state. In New Hampshire, trusts are exempt from state-level income, sales and estate taxes. Consider again a woman living in New York or New Jersey with a $7 million estate. If she were to transfer her investments to a New Hampshire trust, her niece could inherit from the trust without having to pay estate or inheritance tax. Often people find that the tax savings they enjoy by establishing a New Hampshire trust more than pay for the costs and fees associated with setting up and maintaining the trust. Each individual's circumstances are different. Working with your investment advisor and accountant, our attorneys can create a custom estate plan that will maximize your spending power in retirement and help you navigate your own retirement map.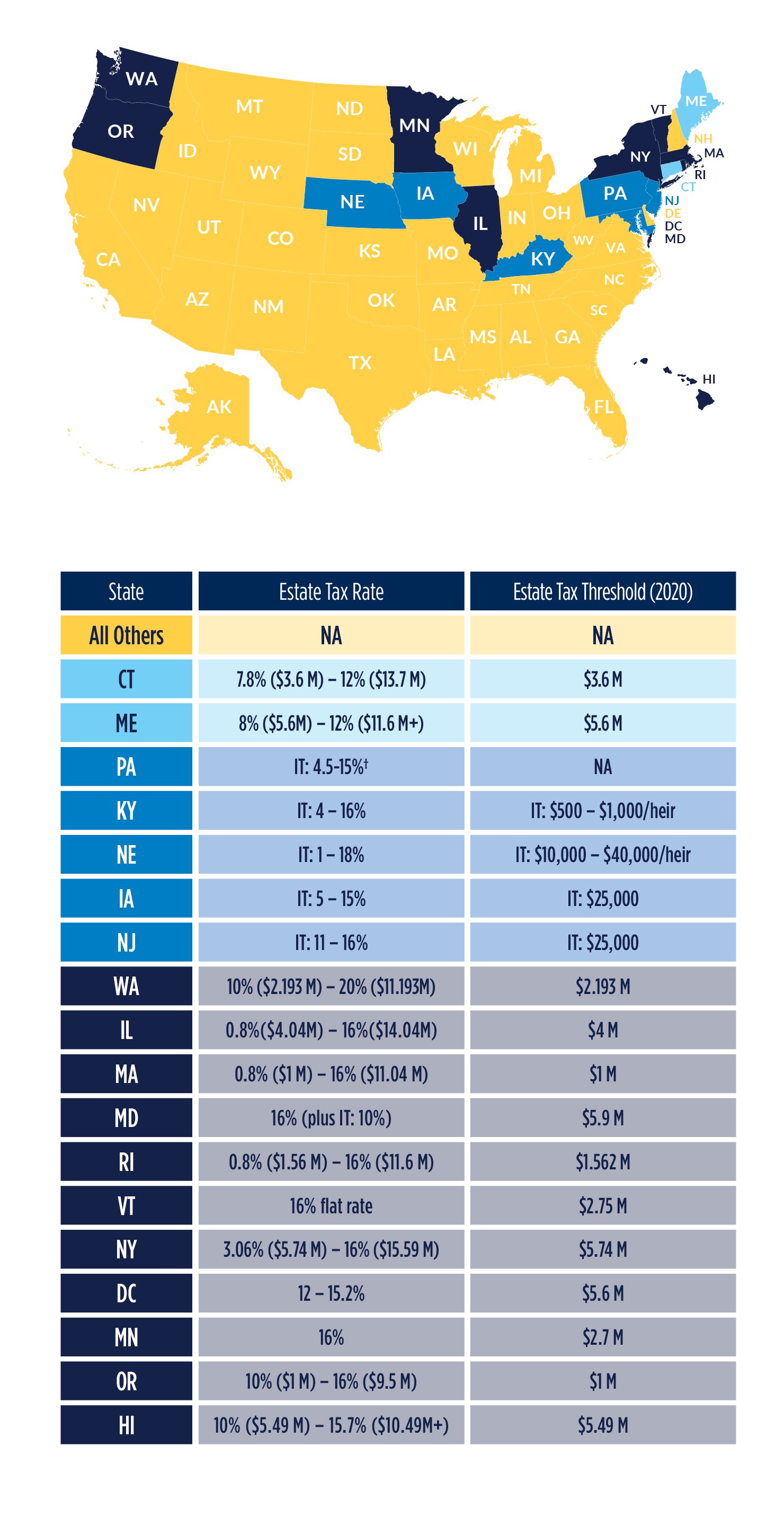 News, Tax Savings, Tax Exemption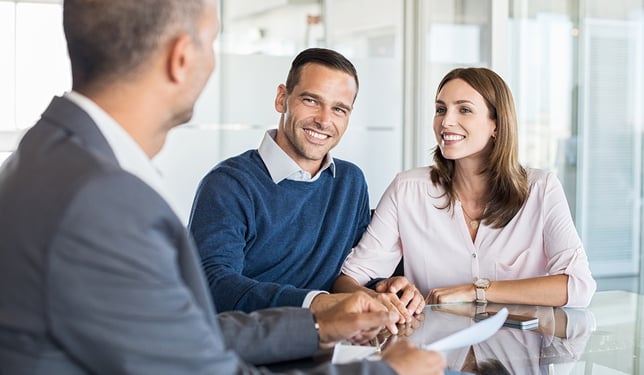 Strategies to Reduce Gift/Estate Tax Uncertainty
Many of our clients have had their eyes on the election and may be rightly thinking about the need to update their gift and estate planning. There is already an open discussion about a rollback of the 2018 Trump tax cuts in the Biden camp. If Biden's win is confirmed, and if those sympathetic to Biden's policy proposals gain control of both houses of Congress, the current generous gift tax of exemption $11.58M, or $23.16M for a married couple, could easily be reduced by 50% or more. Currently, the balance of power will be decided by a run-off election for Georgia's two senate seats, which won't be decided until January 5th, potentially too late to make a decisive move.
To counter this uncertainty, consider a strategy that allows you to "freeze" the current generous gift estate exemption: the gift of a promissory note. An individual can promise to make gifts to donees in the future through such a gift. This promise to make the transfer in the future allows the donor/promisor to take advantage of the current $11.58M estate tax exemption, while still having possession and control of the funds or property.
Normally, a promise must be supported by some consideration and show mutual assent by the parties to be enforceable. Nevertheless, for gift tax purposes, a transfer may constitute a gift even if the property is transferred for less than adequate and full consideration in money or money's worth. 26 U.S. Code §2512. Additionally, a gratuitous transfer of a legally binding promissory note is considered a completed gift even though the donor is solely making a promise to gift property in the future. Rev. Rul. 84-25. These gifts should be timely reported on a Form 709: "United States Gift (and Generation-Skipping Transfer) Tax Return."
Whether this gift strategy will ultimately reduce the estate tax burden will depend in part on whether the taxpayer dies within 3 years of making the gift. If so, the IRS can successfully "add back" the tax burden to the decedent's gross estate. Gifts made shortly prior to a person's death are normally considered "gifts in contemplation of death"; in other words, a gift of property made by a person expecting to die soon. If the gift is considered to be made in contemplation of death, the gift will be included in the value of the decedent's estate for federal tax purposes, which could result in taxation if the estate tax threshold is lowered significantly.
A potential solution to this issue may be a self-cancelling note. This instrument works similarly to a typical installment note, in that payments are made to a person or a trust periodically over a specified period of years. But, unlike a classic installment note, a self-cancelling note includes one or more provisions for automatic cancellation of the unpaid balance at the death of the seller/donor. Therefore, if the donor dies before the specified period, the property is transferred, and the value is removed from the decedent's estate. If the donor lives beyond the period over which payments may be made, the "cancel at death" provision(s) are not triggered.
Some states have similar provisions to the federal 3-year-period explained above. One example is the State of New York, where there is no gift tax. Here, New York Tax Law § 954 (a) (3) includes in a New York resident's taxable estate the amount of any gift made during the three year period before the decedent's death, but not including any gift made: (a) by a non-resident of New York state; or (b) before April 1st, 2014; or (c) between January 1st, 2019 and January 15th, 2019; or (d) that is real or tangible personal property having an actual situs outside NY state at the time the gift was made. This provision is set to expire on January 1st, 2026, in line with current Federal law.
Another strategy is to make the promissory note payable to an irrevocable trust for the benefit of the donees. In this case, the donor could promise to pay or give property to a trust for the donee's benefit. The note would then be delivered to and enforceable by the trustee of the trust. Even though the beneficiaries of the trust are the ultimate recipients, they should not be considered to have received an indirect gift to the trust for gift tax purposes. If the note is payable to a trust created by the donor, the trust could be structured as a grantor trust for income tax purposes. 26 CFR §1.671-2 (e) (2). Consequently, neither the donor nor the trust should be taxed on the interest on the note. Rev. Rul. 85-13.
Carefully implemented, this gift tax strategy can allow you to benefit from the current gift tax exemption, without losing control of assets, and may allow you to reduce your estate tax burden significantly. Contact us to see if this simple but effective strategy could be right for you.