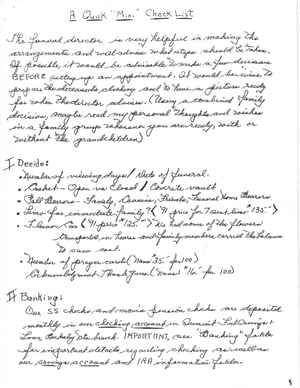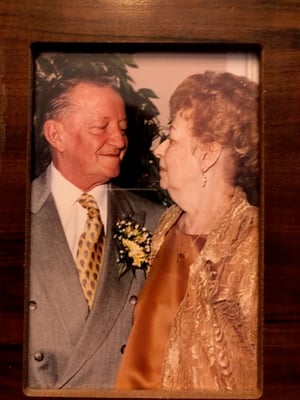 Audrey wrote, "The funeral director is very helpful in making the arrangements and will advise what steps should be taken. If possible, it would be advisable to make a few decisions BEFORE setting up an appointment."

These decisions range from the immediate matter of organizing a funeral ceremony and selecting the nature of the deceased's burial or cremation to managing financial transfers from the deceased to his or her heirs.
One useful tip is to prioritize settling the affairs and transitioning the assets of the deceased. Be sure to cancel the deceased's appointments and either cancel or re-direct pension checks and Social Security benefits to a surviving spouse as soon as possible. You should consider adding a co-signer for bank accounts to streamline this process for an elderly parent.
Compiling all necessary documents of the deceased is also an important step. For example, Audrey recommended ordering copies of the death certificate immediately to be issued to the deceased's banks, life insurance companies, medical insurance companies, pension companies and the Social Security agency.

She also advised bringing the cemetery deed to the funeral home, as well as preparing checks for expected expenses, including the headstone, the excavation of the grave, funeral fees and fees for ceremony personnel such as an organist.
Making ceremonial decisions in advance, preferably with regard to the previously stated wishes of the deceased, can reduce stress and uncertainty after a loved one passes away. These decisions may include the number of receiving dates, who will serve as pall bearers, whether the casket will be open or closed and the type of flowers that will be present at the ceremony, or whether burial or cremation is desired.
Having a plan can make even the most tragic occasion more manageable and turn it into a celebration of life. By following Audrey's sage advice, you can spend less time organizing logistics and more time honoring the life and legacy of your loved one.
If you are an experienced Trusts & Estates Attorney looking for a new opportunity, consider a partner-track position with Donohue, O'Connell & Riley PLLC. We are an established firm of over 40 years with annual revenues of $2M+. Our Exeter office is located in a desirable, affluent community an hour from Boston.
The ideal candidate will have 5+ years of experience in Estate Planning, Probate & Trust Administration. Knowledge of personal finance, basic tax, investment and accounting is a plus. New Hampshire and/or Massachusetts bar admission required, with New York a plus. The successful candidate will be a professional self-starter with strong follow-through and good technology skills, who is comfortable managing one paralegal and working alongside other attorneys and support staff.
Donohue, O'Connell & Riley PLLC is a regional boutique law firm with five offices in three states. Today our team serves as trusts & estates counsel to the needs of over 6,000 businesses & individuals, advising them on how to reduce taxation and structure their personal affairs to preserve their legacy and ensure a smooth transition of assets between generations. For more information about the firm, please visit www.docrlaw.com.
Job Type: Full-time, no remote or work-from-home.
Competitive salary based on experience.
To apply please send your resume to Heidi Bogle via email: heidi.bogle@docrlaw.com